MAC Layer
MAC Layer
---
Outline
Elements of wireless network
Wireless links, characteristics, and types
IEEE 802.11 wireless LANs ("Wi-Fi") and features

Signals
Hidden and exposed terminal
Wireless LAN standards & architecture

Channeling, association and scanning
IEEE 802.11 MAC protocol

CSMA/CA
IEEE 802.11 framing
---
802.11 LAN architecture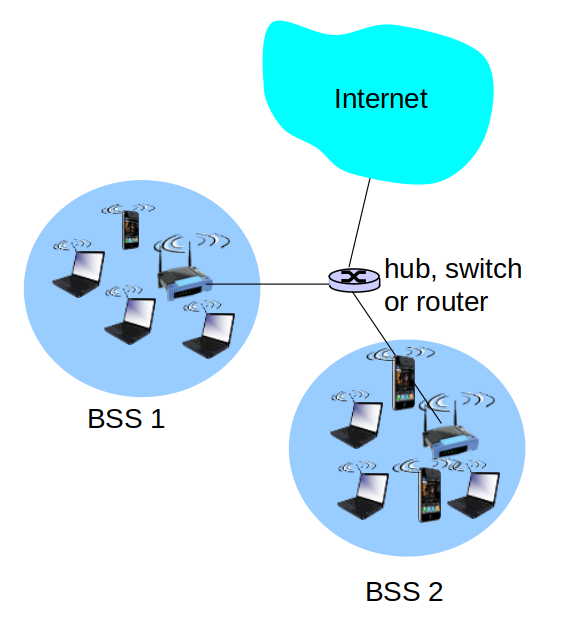 </img> - Wireless host communicates with base station - Base station = access point (AP) - Basic Service Set (BSS) (aka "cell") in infrastructure mode contains: - Wireless hosts - Access point (AP): base station - Ad hoc mode: hosts only
---
802.11: Channels, association
802.11b: 2.4GHz-2.485GHz spectrum divided into 11 channels at different frequencies

AP admin chooses frequency for AP
Interference possible: channel can be same as that chosen by neighboring AP!
---
802.11: Channels, association
Host must associate with an AP

Scan channels, listening for beacon frames containing AP's name (SSID) and MAC address
Selects AP to associate with
May perform authentication
---
802.11: passive/active scanning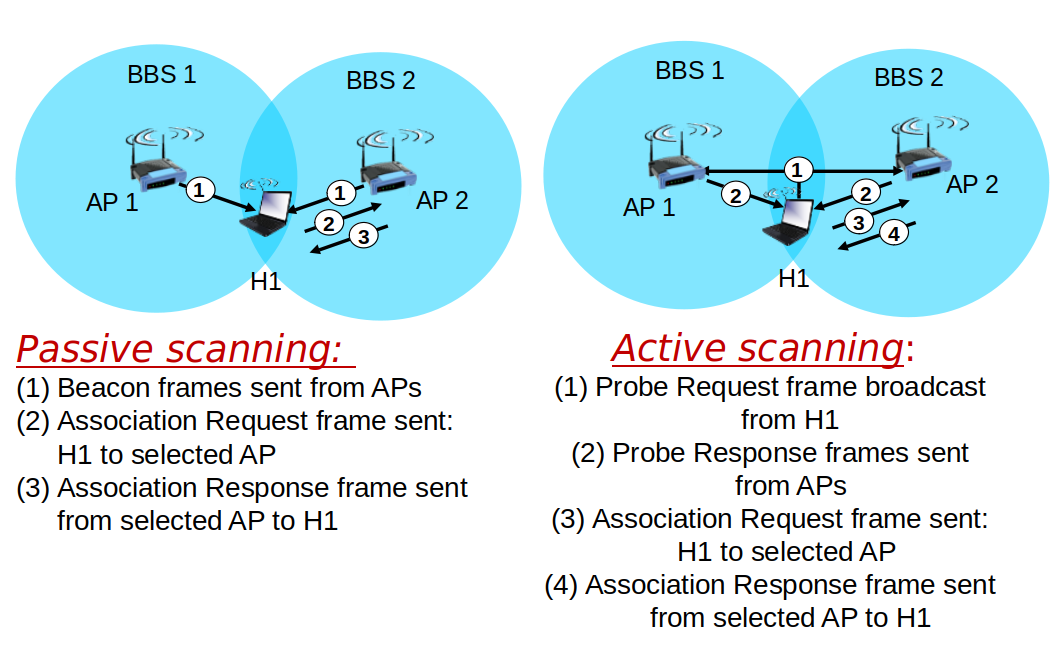 </img>
---
IEEE 802.11: multiple access
Avoid collisions: 2+ nodes transmitting at same time
802.11: CSMA - sense before transmitting

Don't collide with ongoing transmission by other node
---
IEEE 802.11: multiple access
802.11: no collision detection!

Difficult to receive (sense collisions) when transmitting due to weak received signals (fading)
Can't sense all collisions in any case: hidden terminal, fading
Goal: avoid collisions: CSMA/C(ollision)A(voidance)
---
IEEE 802.11 MAC Protocol: CSMA/CA
802.11 sender
If sense channel idle for DIFS (Distributed Inter-Frame Space)

then transmit entire frame (no CD)

If sense channel busy then

start random backoff time
timer counts down while channel idle
transmit when timer expires
if no ACK, increase random backoff interval, repeat step 2.
---
IEEE 802.11 MAC Protocol: CSMA/CA
802.11 receiver
If frame received OK

return ACK after SIFS (Short Inter-Frame Space)
ACK needed due to hidden terminal problem)
---
IEEE 802.11 MAC Protocol: CSMA/CA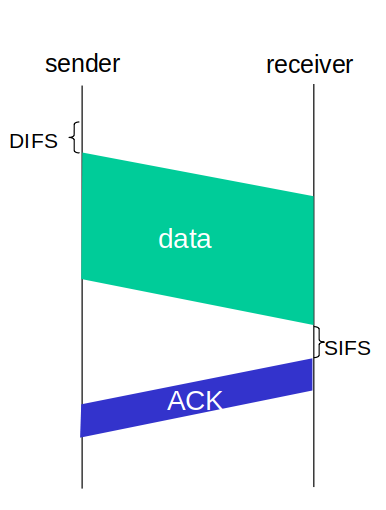 </img>
---
Avoiding collisions
Idea: allow sender to "reserve" channel rather than random access of data frames: avoid collisions of long data frames
---
Avoiding collisions
Sender first transmits small request-to-send (RTS) packets to BS using CSMA

RTSs may still collide with each other (but they're short)

BS broadcasts clear-to-send CTS in response to RTS
CTS heard by all nodes

Sender transmits data frame
Other stations defer transmissions
---
Collision Avoidance: RTS-CTS exchange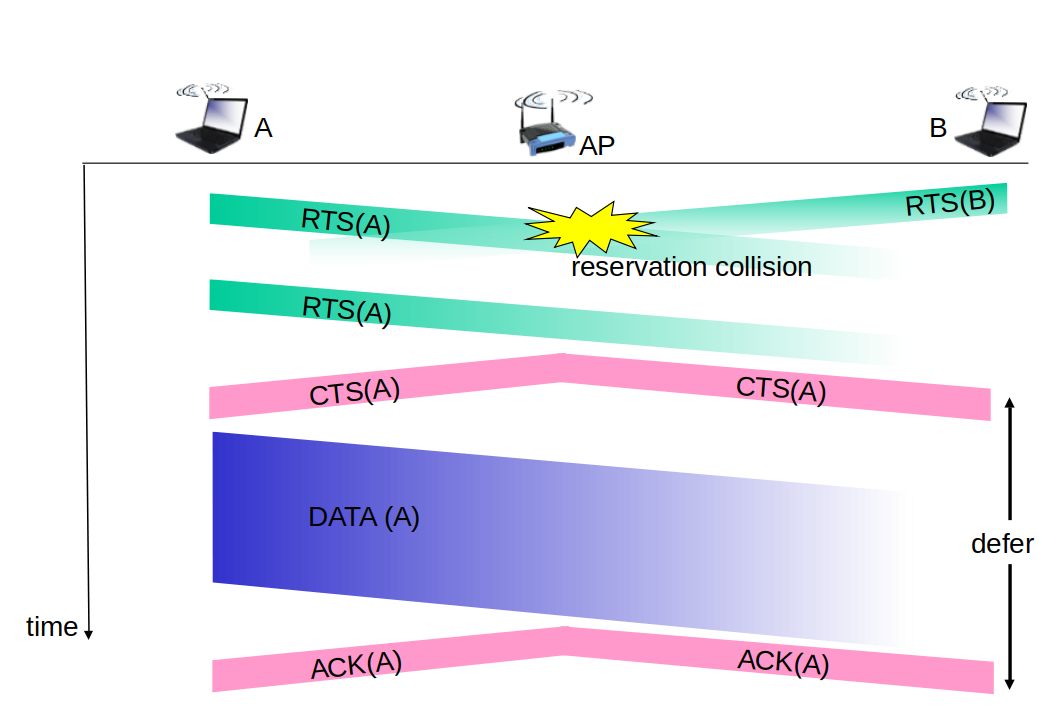 </img>
---
802.11 frame: addressing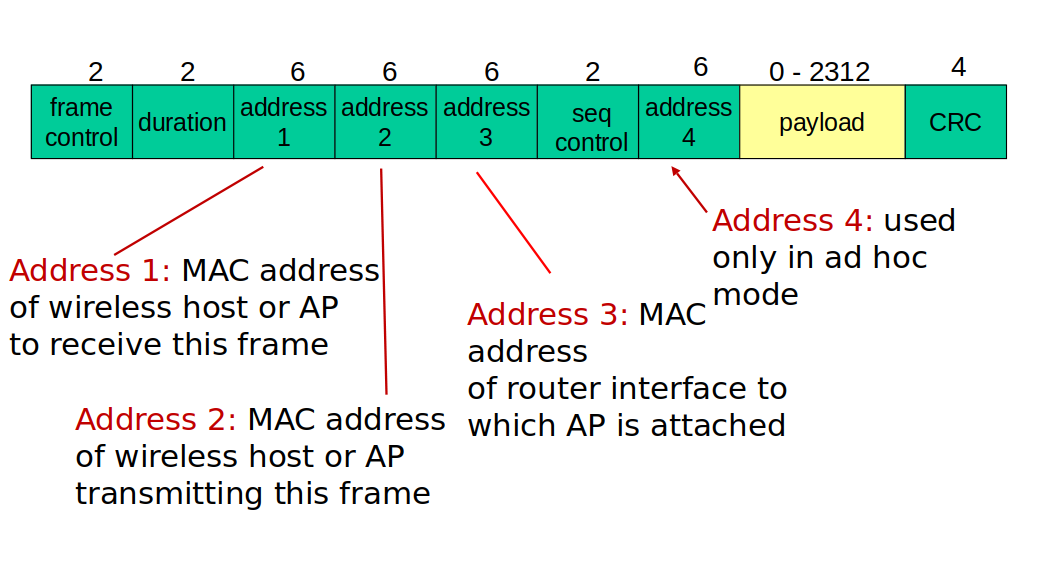 </img>
---
Physical Layer
---
Outline
Bandwidth of signals and channels
Digital modulation schemes (NRZ, NRZI, Manchester etc.)
Multiplexing
---
Bandwidth
Two distinct senses:
Synonymous with "bit rate" (rate of data transmission)
Width of a range of frequencies (e.g. as used by a signal)

E.g. 0 Hz through 10 MHz (10 MHz bandwidth)
E.g. 20 MHz through 30 MHz (10 MHz bandwidth)
---
Bandwidth
Baseband: a range running from 0 to some maximum frequency. Typically applicable to wired media.
Passband: signals occupying some range of frequencies, as would pass through corresponding frequency filters.

E.g. 802.11b channel #3: 2.411GHz ~ 2.433GHz
Channel has bandwidth of: 2.433-2.411 GHz = 22 MHz

"Available" bandwidth

Range of frequencies usefully transmissible in a medium
A physical property of the transmission medium
---
Digital Signals
0s and 1s may take on many possible representations when transmitted

Some representations have desirable properties for particular media
Digital signals are obtained from an analog signal: Information transmitted by varying some physical property such as voltage or current
---
Digital Modulation
Digital signals (0, 1) are encoded by (e.g.) low and high voltage
Digital Encoding Schemes:

Non-Return-to-Zero (NRZ)
Non-Return-to-Zero-Inverted (NRZ-I)
Bipolar encoding, a.k.a. Alternate Mark Inversion (AMI)
Manchester encoding
---
1. NRZ Encoding
---
1. NRZ Encoding

</img>
---
1. NRZ Encoding
Relies on sender and received having accurate, in sync "clocks"
Transitions (from +v to -v, or -v to +v) can be used to correct small deviations
Problem: long runs of consecutive bits with same value [no changes in voltage] the constant signal values cannot synchronize the communicating devices
Various other schemes offer possible solutions to this problem (recall: bitstuffig)
---
2. NRZI (inverted) Encoding
NRZI attempts to alleviate the problem in NRZ

'0' is encoded as no change in the level
'1' is encoded depending on the current state of the line.

If the current state is low voltage the '1' will be encoded as a high voltage, if the current state is again high voltage the '1' will be encoded as a low voltage
---
2. NRZI (inverted) Encoding

</img>
This fixes the problem of sending consecutive 1s but not consecutive 0s
---
3. Bipolar Encoding
0 is represented by a zero voltage, neither high nor low.
1 is represented by either positive voltage or negative voltage.

Chosen voltage inverted from the last transmission of 1
I.e. represented by a negative voltage if it was represented by a positive voltage when it was last transmitted, and vice versa
---
3. Bipolar Encoding

</img>
"Balanced encoding"

sum voltage 0
desirable in some applications
---
4. Manchester Encoding
Merge an explicit clock signal with the data signal
Low-to-high voltage transition represents 1
High-to-low voltage transition represents 0

Inverse of this convention is sometimes used
---
4. Manchester Encoding

</img>
---
4. Manchester Encoding
Uses signal changes to transmit data and achieve synchronization

Guaranteed transitions – occur with each bit transmitted

Problem: Twice the bandwidth of NRZ is required
---
Multiplexing
---
Multiplexing
Channels are often shared by multiple signals
Different ways to accomplish multiplexing:

FDM (Frequency Division Multiplexing)
WDM (Wavelength Division Multiplexing)
TDM (Time Division Multiplexing)
CDMA (Code Division Multiple Access)
---
Frequency Division Multiplexing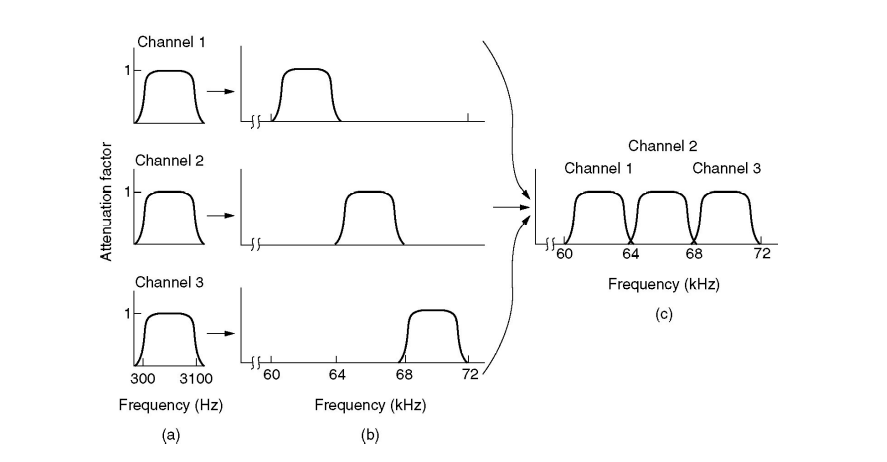 </img>
---
Wavelength Division Multiplexing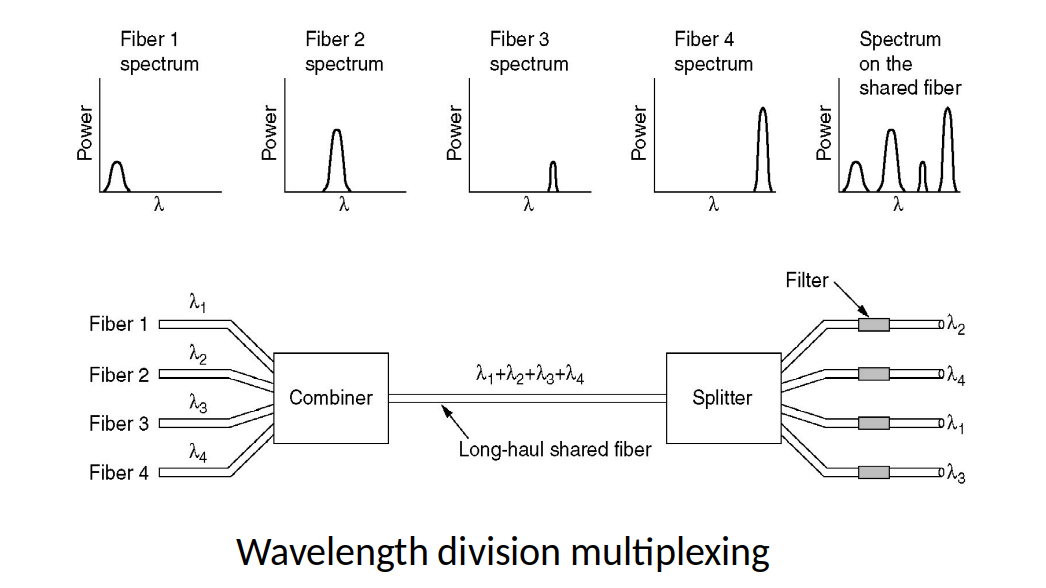 </img>
---
Time Division Multiplexing

</img>
---
CDMA – Code Division Multiple Access
Method allowing every transmitter to use the entire channel all the time
Individual transmissions are extracted by a receiver using coding theory
Channel itself merges the transmissions
---
CDMA – Code Division Multiple Access
Suppose we have four transmitters called, from now on, stations
Each station has a "chip" (i.e. code), which is a four-bit vector, e.g.:

A : (+1 +1 +1 +1)
B : (+1 −1 +1 −1)
C : (+1 +1 −1 −1)
D : (+1 −1 −1 +1)

These "chips" are chosen so that they are all orthogonal to one another:

A · B = 0, B · A = 0, … A · C = 0, …
---
CDMA – Code Division Multiple Access
For mathematical simplicity, we will call the two binary states -1 and +1
Stations transmit data by transmitting either:
Their chip sequence, to transmit a 1
The negation of their chip sequence, to transmit a -1
Nothing at all if they do not wish to transmit
---
CDMA – Code Division Multiple Access
- A : (+1 +1 +1 +1) - B : (+1 −1 +1 −1) - C : (+1 +1 −1 −1) - D : (+1 −1 −1 +1)
For instance, in this example:

B can transmit a +1 data value by transmitting: +1, -1, +1, -1
B can transmit a -1 data value by transmitting: -1, +1, -1, +1
---
Summary
Bandwidth of signals and channels
Digital modulation schemes (NRZ, NRZI, Manchester, etc.)
Multiplexing (FDM, TDM, WDM, and CDMA)